Featured Employment

Inside Sales Representative
Upstate Door is a Custom Door Manufacturer for a high-end, residential housing market.
Requirements:
Must be a clear, constructive, and effective communicator
Excellent problem solving, project management, technical and analytical skills
Customer-centric, willingness to provide high quality customer service and support
Preferred:
Associates or Bachelor's degree
Previous door or window experience
Estimating, architectural, manufacturing, or sales background
If interested, please send resume to: HR@upstatedoor.com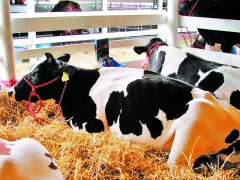 Find your new career in agriculture!
Table Rock Farm, De Golyer Holsteins seeks a talented Dairy Specialist.
Duties include cattle health care, milking, barn cleaning, equipment operation. 45-55 hrs wk. Must possess positive attitude towards agriculture, and a desire to grow in knowledge and skills. Paid training time. First-class co-workers, 401K retirement, health insurance, overtime, education funds, other benefits.
Apply at: 5428 Upper Reservation Rd, Castile, NY.
Full-Time Milk Truck Driver
FULL-TIME
MILK TRUCK DRIVER WANTED
CDL Class A
Full time, must be flexible with hours.
Must be available to work one day on weekends.
Need to qualify for Tank Endorsement
We will facilitate driver getting a milk sampler's license.
Benefits
Competitive pay ♦ Health insurance available ♦ Paid vacation
Please fill out application at office
Donnan Farms, Inc.
2241 York Road W
Piffard, NY
585-243-4583
or email resume to donnanfarms@gmail.com